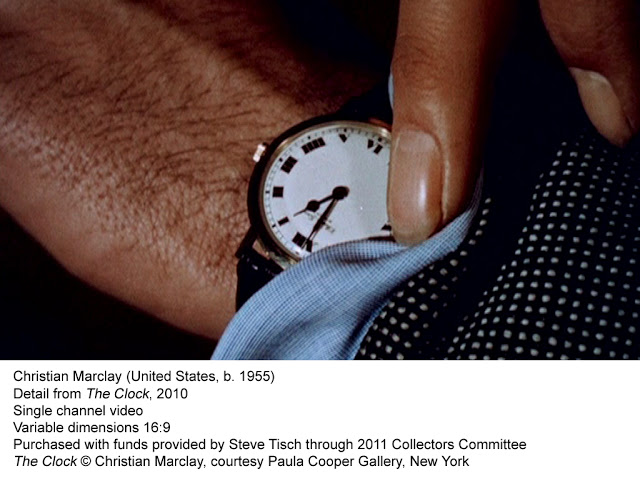 This weekend is about art. Art art art. As was last weekend. Did you see The Clock? Incredible.

FRIDAY, SEPT. 28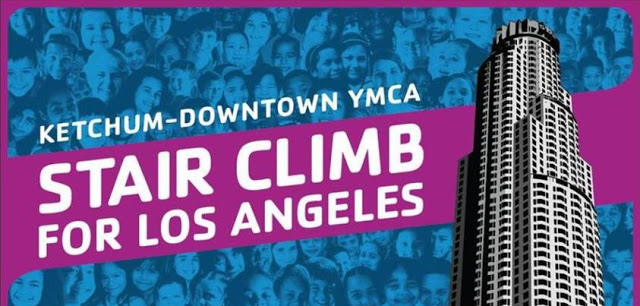 Still need to get in your workout for the day? Clim nearly 1,700 stairs to the top of the West Coast's tallest building and be a part of the 19th Annual Stair Climb for Los Angeles. Each step you take benefits the impactful work of the Ketchum-Downtown YMCA. From 1-9pm Hope St will be shut down to make room for food trucks, music stages, a beer garden, a rock-climbing wall, and more.
Free
1 – 9pm
YMCA of Metropolitan Los Angeles
401 S Hope St
Los Angeles 90071
"The Wizard of Oz" Presented by Front Porch Cinema
The Santa Monica Pier is LA's front porch. Front Porch Cinema, co-produced by Eat|See|Hear, LA's premier outdoor movie event series, will feature an eclectic line-up of movies, pre-show DJ, interactive booths, refreshing drinks and delicious snacks under the stars, complimented by a cool, ocean breeze. The series kicks off tonight with the 75th anniversary celebration of "The Wizard of OZ." Moviegoers are encouraged to walk the yellow brick road and dress as their favorite character.
Free
6 -11pm
Santa Monica Pier
100 Santa Monica Pier
Santa Monica 90401

Jazz at LACMA Presents Janis Mann
At once both a striking song stylist and a fearless improviser, Janis Mann is that rare artist who can sweep you away with her captivating sound. Her first CD, A Little Moonlight, was hailed by co-producer Diane Schuur as "a heartfelt and tasty interpretation of well-loved standards."
Free
6pm
LACMA
5905 Wilshire Blvd
Los Angeles 90036
SATURDAY, SEPT. 29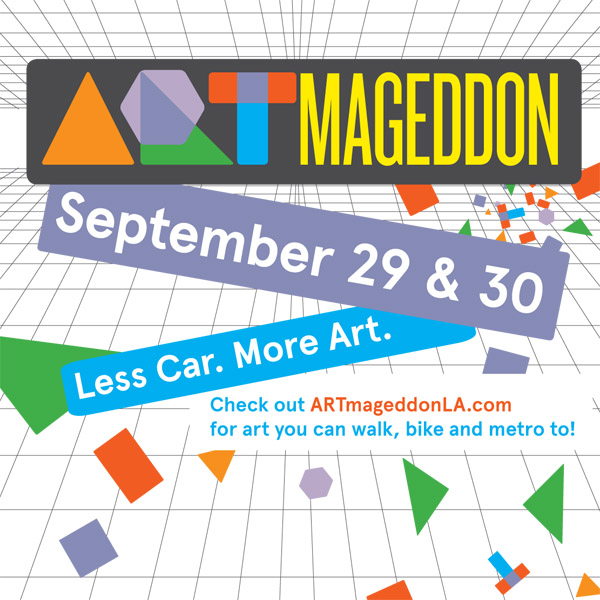 The 405 is closed! DO NOT GET IN YOUR CAR. Instead, go see some art. Use the map on the website or search by neighborhood to find galleries, theaters, museums, music venues and more located near you.
Ticket prices vary by event. Many events free.
All weekend!
All over LA!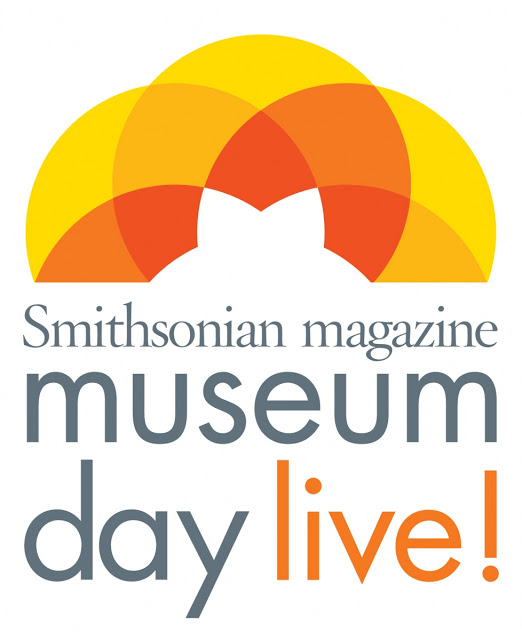 Coincidentally, Museum Day Live, sponsored by the Smithsonian Institute, just happens to be on the same weekend as Artmageddon. Serendipity, if we do say.
Go to the Smithsonian Museum Day Live! site, pick a museum, and submit a request for free admission. The passes are sent to your inbox, and then you can head out on the cheap for art, inspiration, and learning.
Free!
All over LA!
The Mid-Autumn Festival, also known as the Moon Festival or Zhongqiu Festival is a popular harvest festival celebrated by the Chinese dating back over 3,000 years. This free event offers event-goers a chance to see exciting roaming cultural acts such as lion dancers and kung fu artists perform against the magical neon backdrop of LA Chinatown, and to, of course, eat moon cakes.
Free
5 – 11pm
Chinatown Plaza
943 North Broadway
Los Angeles, CA
This event mashes everyone from the LA improv scene into one epic night of fun, partying and some improv. Sponsored by Minor League Harold Night, The Local And Happy Hour Recess. The show is free, the beer is free, the water is free, the sake is free, and the grilled cheeses are a dollar.
And I'm in it! I'm in the last team of the 7:30 – 8:30 hour. Check out all the teams here.
Free
7pm – 1am
Artworks ANNEX
6581 Santa Monica Blvd
Los Angeles, CA
Live Rock and Roll with Facts on File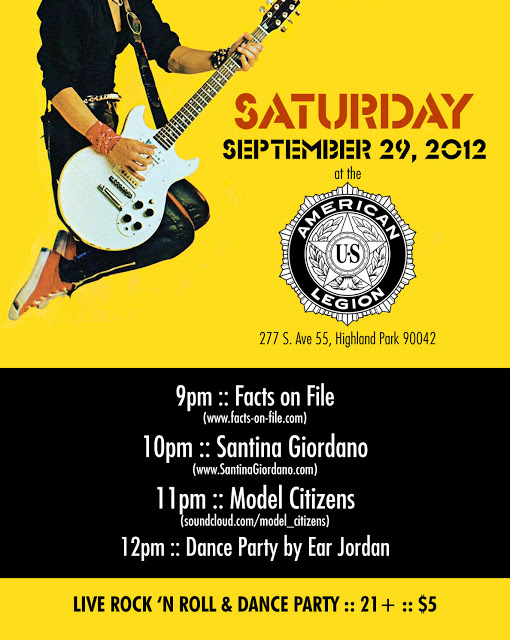 Check out some live rock and roll bands in Highland Park. So old school. Followed by a dance party. Truly, there are not enough dance parties in this town.
$5
9pm Facts on File
www.facts-on-file.com
10pm Santina Giordano
www.SantinaGiordano.com
11pm Model Citizens
www.soundcloud.com/model_citizens
12pm Dance party provided by>>>Ear Jordan
21 and up
Cheap drinks!
American Legion
227 S. Ave 55
Highland Park 90042
SCION A/V Installation Presents: VERITA VITIMA VITAE
This event is so fun. I know, because I went last year. It's an art installation featuring well-curated works by groundbreaking artists, as well as a retail destination with uniquely designed products. The gallery will feature a revolving roster of artists showing their work in the space and retailing any product they have created. 100% of the sales of the artist produced artwork and artist produced product will be given back to the artist showing.
Free
7 – 10pm
7667 Melrose Ave
Los Angeles 90036
Swingers at Barnsdall Outdoor Movies
The quintessential LA Movie. It's so money. Bring a blanket and a picnic to enjoy this classic on the West Lawn of Frank Lloyd Wright's Hollyhock House, perched on the beautiful Olive Hill at Barnsdall Park. All screenings are 17+ to attend and 21+ to drink.
Beer + Wine: City Sip will be offering three glasses of unique beer and wine selections. Come early, have a few drinks, and secure your spot in front of the screen.
Food: Bring a picnic! You are welcome to bring your own food, soft drinks, and a blanket; however, NO outside alcoholic beverages will be permitted.
Heirloom LA and Border Grill Truck will be serving up delicious food in the motor court outside of the Hollyhock house.
Ticket for Drinks and the Movie are $25
Tickets for the movie only (no drink tickets) are $10
Additional glasses of beer or wine will be $5.
Doors open at 5:30pm
Beer and Wine served 5:30-7:30pm; Screening at 7:30pm.
Barnsdall Park
4800 Hollywood Blvd
Los Angeles 90027

This is a must do. Remember how much you loved book fairs when you were a kid. This book fair is like a kabillion times better than any others. It's such an incredible day. It's one of Southern California's largest and most eclectic literary arts events, and it attracts readers, writers, and performers of all ages and interests. At this year's event, the City of West Hollywood celebrates the one-year anniversary of its vibrant new library, which has quickly become an integral part of the community and its passionate commitment to lifelong learning. Featuring 13 stages with hundreds of acclaimed authors and artists, 100 exhibitors, live performances, culinary demonstrations, children's theater programming, and workshops across a broad spectrum of works.
Among the many notable authors scheduled to appear at this year's West Hollywood Book Fair are Roberto Martin (Ellen DeGeneres' personal chef and author of Vegan Cooking for Carnivores); Andrew McCarthy (award-winning travel writer and actor: Blaine, that's a major appliance, not a name); Ludovic Lefebvre (LudoBites master chef); Gigi Levangie Grazer (New York Times bestselling author of five novels including The Starter Wife, Maneater and The After Wife, as well as the screenplay for Stepmom); Eric Erlandson (co-founder, songwriter, and lead guitarist for the alternative rock band Hole and author of Letters to Kurt about his close friendship with Nirvana icon Kurt Cobain); and Luis J. Rodriguez (bestselling author of Always Running and It Calls You Back on L.A. gang life).
Free
10am – 6pm
West Hollywood Library
625 N San Vicente Blvd
West Hollywood 90069
Follow LAHappenings for daily event updates.